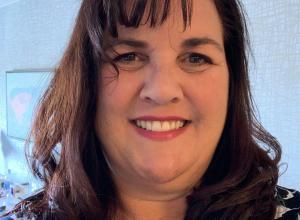 Director of Community Impact
330-297-1424 x4
Experience
Maureen began her career at United Way of Portage County April 2010 as an Administrative Assistant. She now serves as the Director of Community Impact and Volunteers, managing United Way's grant processes, agency allocations, and all outcome measurement processes. She works with the Community Impact committee to ensure that all programs are meeting stated outcomes and reports the outcomes to the community. Maureen also manages all of the United Way volunteers and volunteer opportunities.
Personal Information/Fun Facts
A graduate of Ravenna HS and Maplewood Career Center's Executive Secretarial Program in 1986.  Maureen lives with her husband, Mark (33 yr. veteran of USAF), of 6 years in Ravenna along with their dog, Milo and 2 cats, Jasper and Leo.  Between the two they have 5 children and 4 grandchildren (Cain, 6 yrs., Nora, 18 mos., Sadie, 11 mos. and Theodore born 9/14/21).
Why I enjoy working for United Way of Portage County
After a 24-year career in the for-profit world, I enjoy being part of a team that helps give back to the community I have lived in all my life.  I have met many close friends by working alongside volunteers and program directors that are so generous with their time and share the passion of helping others.