United Way of Portage County provides funding assistance to the Senior Corps – Retired and Senior Volunteer Program (RSVP).  This program enables volunteers in our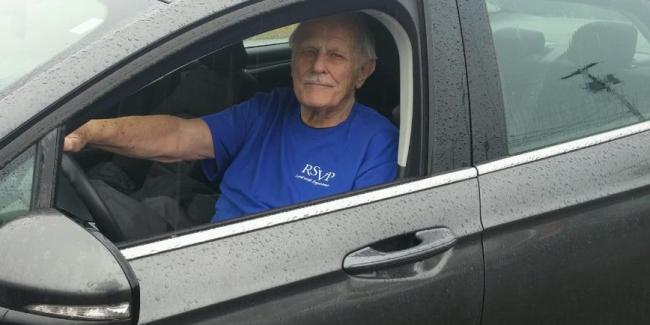 community who are 55 and older to use their talents, skills and free time to help with projects or other needs.  Some of those projects include providing transportation to seniors, serving food to the hungry, tutoring youth and much more.  One great story about how a person can really make an impact in someone's life, right here in Portage County, is Leon's story:
"Rain or shine – RSVP is here to help"
Betty lives in Streetsboro and is unable to drive because she has vision issues. With no family nearby, she was relying on a cab service and paying $150 round trip to Cleveland for medical appointments. It cost her $40 to go to Streetsboro Plaza, just a few miles from her home.
She's grateful to Leon Jankowski, an RSVP volunteer, whose transportation services have enabled her to travel where she needs to be without having to pay for it.
Leon signed on with RSVP in May 2017. He helped pick up bread donations for the Streetsboro Senior Center and did a delivery run to the Center of Hope once a week. He started doing his volunteer transportation service in January, after learning from RSVP that there is a need for volunteer drivers in Portage County.
He knew Betty and was aware that her mobility was limited. After enrolling as a transportation volunteer he reached out to her, shared what he was doing and asked if he could help. He explained that he could provide transportation to her free of charge when he is available, including trips to Cleveland for her medical needs.
Now Leon helps Betty twice a week, taking her to the grocery, medical appointments and social outings. He also calls her every other day, just to make sure that she is OK. She lives alone and sometimes gets lonely.
"Leon is always in a good mood, which makes me happy," Betty said. "We always have fun together."
Betty is grateful to Leon and to RSVP for the help she is receiving.
Leon is grateful, too. Driving for others helps him to remain active and he's made some new friends, too. He feels like he's making a difference. In addition to Betty, Leon is helping three other Streetsboro residents and has picked up a few others in Ravenna that have been referred to RSVP by University Hospitals-Portage Medical Center.
Leon wishes more volunteers would sign on with RSVP for transportation services. "There are many older folks that do not have anyone to rely on," he said. "This program could change that."
To volunteer with RSVP, call Crystal Shanley at (330) 877-2495 or email at cshanley@fcsohio.org
Find us on Facebook for more information by searching: RSVP of Portage County