Volunteers are the backbone of nonprofit work, especially at United Way.  They are the wonderful people who give their time, their talents and their dedication to ensure that people in our community are receiving the help they need.  We are fortunate to have tremendous volunteers who support our local United Way and we wanted to highlight one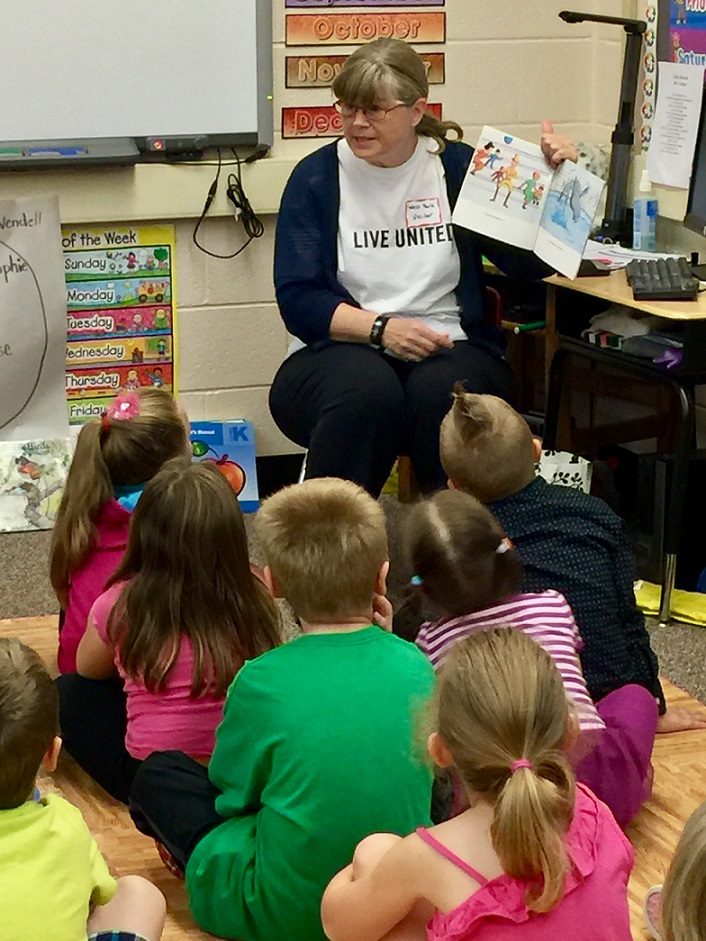 story of a volunteer who has worked with us for multiple years and has made additional education programs available to children in our local schools and Head Start program.  Here is her story:
I have been volunteering for the United Way of Portage County for many years.  For the early years it was on special events surrounding our Kent State University (KSU) employee workplace campaign or at the concessions stand to earn monies for the United Way.  When the United Way distilled its mission to focus on Health, Education and Financial Security, I really felt empowered to volunteer in new ways. The education pillar hits close to my heart as I know that for a student to be successful they need to be able to read and to do math.  I have for years told others that when I retire, I am going to help children learn to read and write.
The Big Red Bookshelf project is especially dear to me as it was conceived by a KSU student doing an internship with the United Way and then my brother came up with a set of directions that allow any group to make bookshelves and they will all be alike.  My husband and I worked with KSU students to produce the first four bookshelves at a Super Service Saturday several years ago and have worked with student to build more over the years.  The other project that is near and dear to me is the Literacy Kits.  This allows a child to retell a story with aids and to own the book and the aids as their own.  It allows the community be involved in creating the kits and the student each get a unique one of a kind kit and book all their own.
Helping and assisting others has been part of the fabric of my life.  I believe in giving back and paying forward.  I enjoy helping and assisting others and have always received so much more by being able to meet new people and listen to their stories.